Now that the house has evicted its latest batch of germs (honestly, I don't know what's been going on, but we have hosted far too many bugs over the past few months), I'm back. Today I wanted to share some of my favourite blogs. In some cases, these blogs have lots of followers, but I don't see many bloggers I know there. Hope you find somewhere new and interesting to browse.
Better After
Lindsey's blog focuses on all those before and after pictures ranging from whole houses (a bit too much DIY in my book) to wall ornaments. Very occasionally, I'll prefer the before, but there are tons of great ideas here and loads of content. Look at the funky ladybird car for a toddler....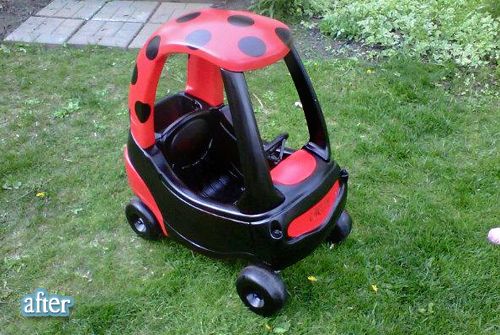 Summerland Cottage
Paulette makes gorgeous ceramics, jewellery and art. I love her inspiration from nature. Just look at her bisque designs fresh from firing:
Alisa Burke
I'm always delighted to see a new post from Alisa in my Google reader. I love her celebration of colour that riots on my screen, and her use of shape when colour is absent. This is her new book, which I am tempted to purchase although sewing and I are never found in the same room...
Happy reading!